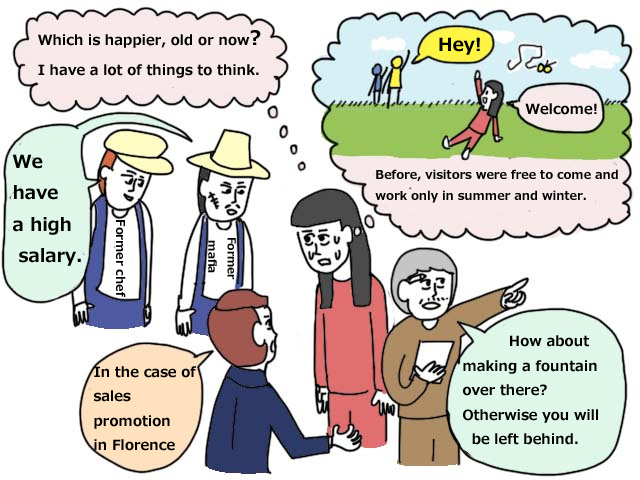 ~ Viticulture series ~
・ Viticulture
・ Viticulture: Tuscany Essential Edition
・ Viticulture: Visit from The Rhine Valley Expansion
Overview

① Victory line changes from 20 points to 25 points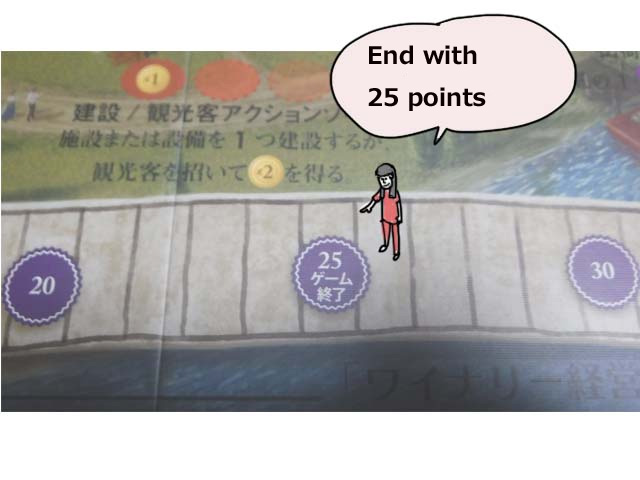 Play time has increased.
You can do what you wanted to do in development.
It became difficult to clear quickly using the effect of the card.
② Opportunities for worker placement increased from 2 to 4 times.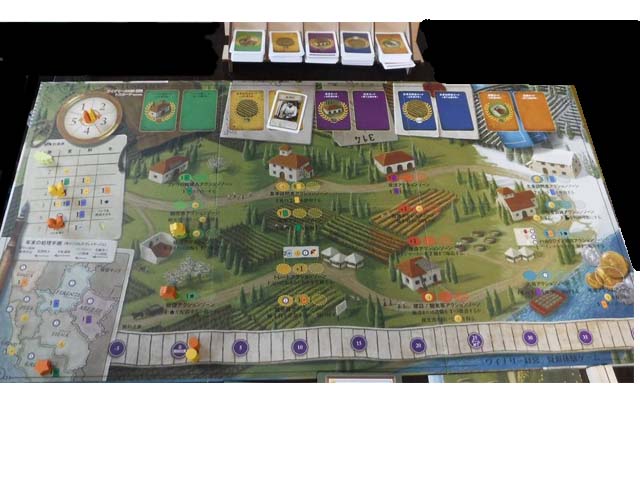 The worker placement timing, which used to be twice in spring and summer, is now four.
What I used to do in summer has been divided into two, spring and summer.

In the same way, the actions that were usually done in winter are sorted into autumn and winter.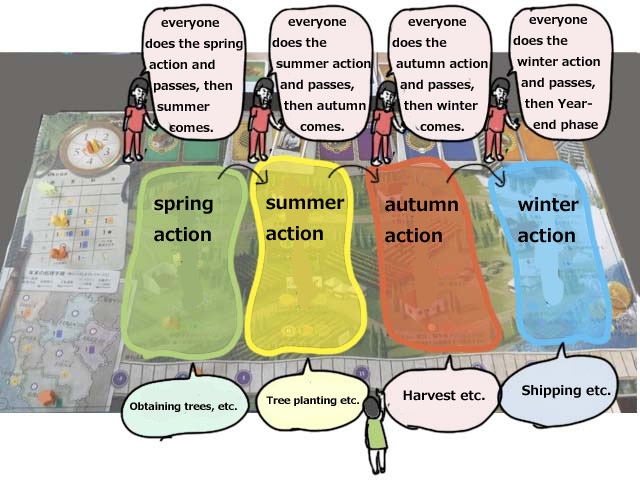 Extended original actions are added for each season.
For example, the original summer vine card acquisition is now a spring action, and the tree planting action is now a summer action.

In addition, a new action called sales promotion action is added in the spring.

In the summer, an action that allows you to trade victory points, grapes, money, and cards has been added.
It can be said that important actions are distributed. The playing order has become more important.
③ New action: Sales promotion action
New actions have been added as described above.
The biggest change is the sales promotion action.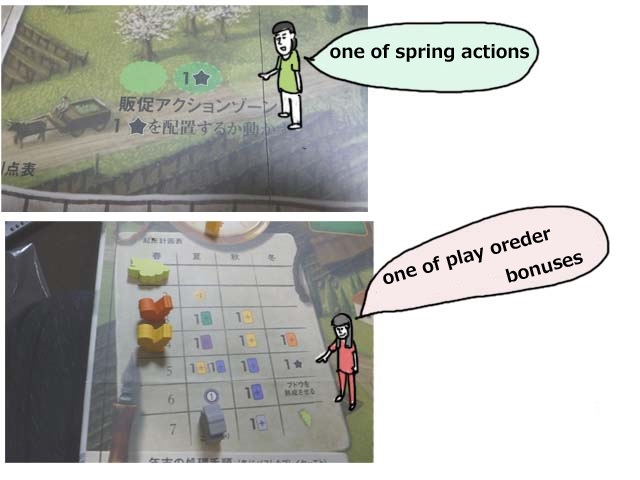 When you take this action, you place one star token on the map of the board.
When you place it, you receive the bonus.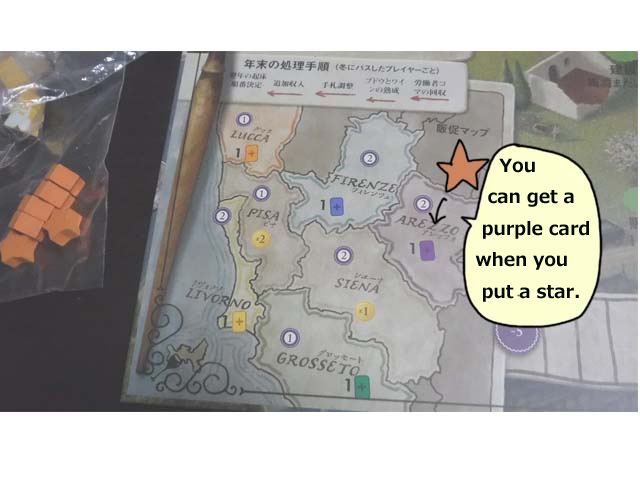 You can get various cards and money.
So you can use this action instead of the usual actions like tree card acquisition action or order card acquisition action.
In addition, the player with the most stars in each area at the end of the game will receive 1-2 victory points.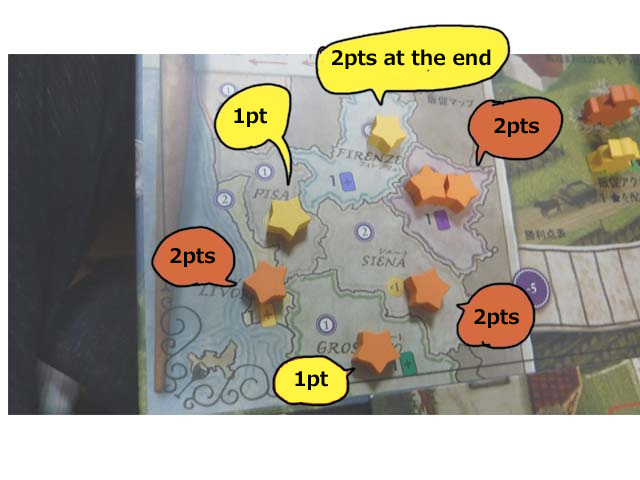 Depending on the situation. a player can get about 7 or more points at once, which is an element that cannot be ignored.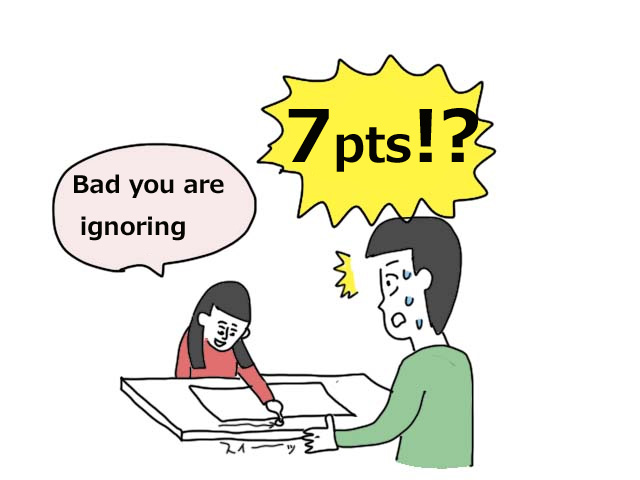 ④ Special worker
You can hire a worker with special abilities for one extra money to a normal worker.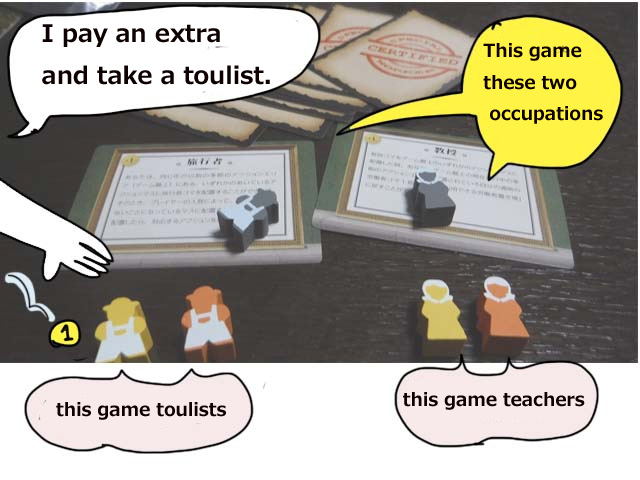 The ability is quite powerful, such as being able to place it in a vacant space in the past season, expelling other worker and placing it in the space, and returning one of your already placed workers.
The abilities of these two workers make a big difference from game to game.
⑤ The chances of getting a placement bonus have increased.
Especially since we were playing with two people, we were not familiar with the bonus that we could get just by placing a worker, but in Tuscany Edition, the bonus comes from the first space.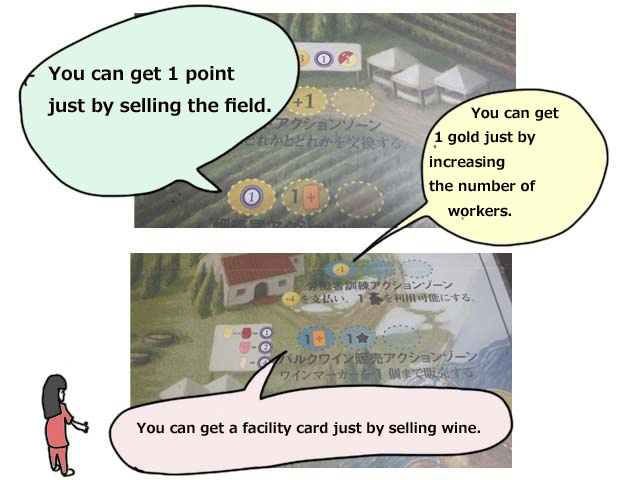 In the original, there is no bonus in the first space, so I did not use it in two-player game.
Rather, this become at the heart of the strategy.

The importance of the play order increases in this scene as well.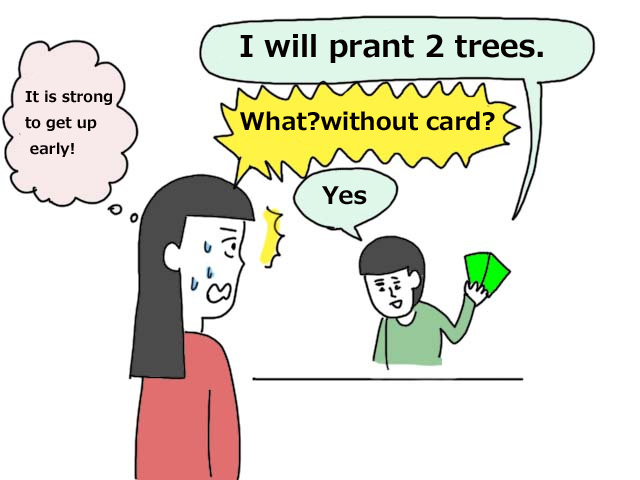 By the way, the play order bonus has also changed.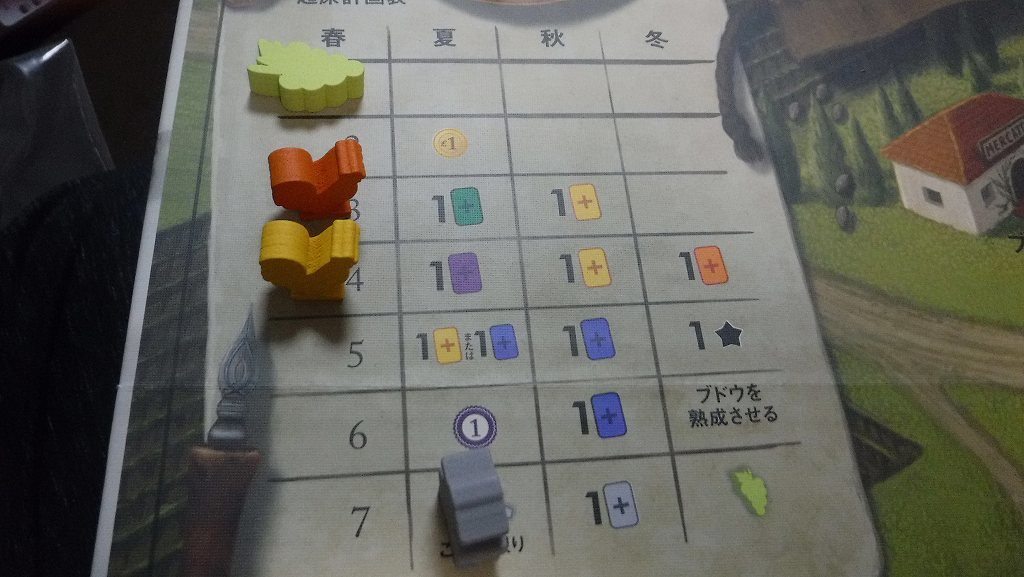 You can get up to 3 cards, grape aging, sales promotion actions, etc. as bonuses.

Since players no longer automatically receive visitor cards in the fall, the main route to get visitor cards is these bonuses.
⑥ Addition of facilities
Added a group of orange cards. The contents are facilities.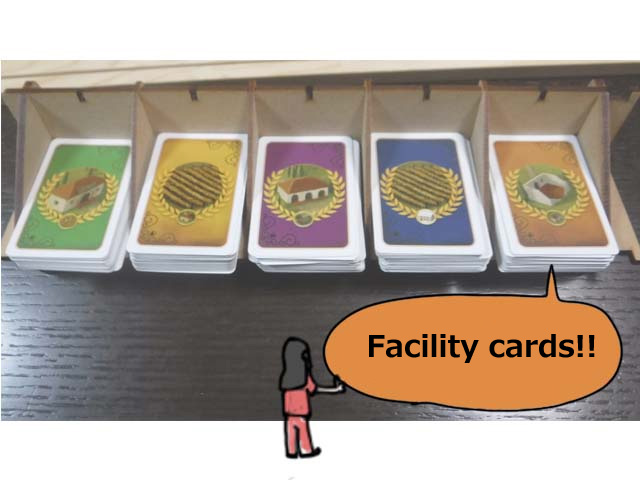 An additional board beside the personal board. You can build two facilities here.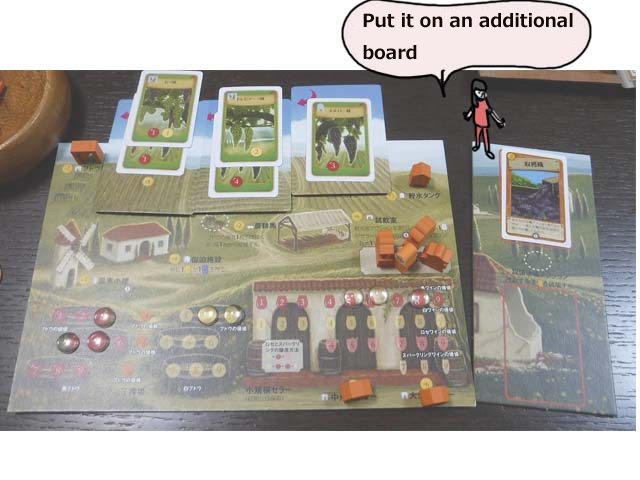 There are three types of facilities.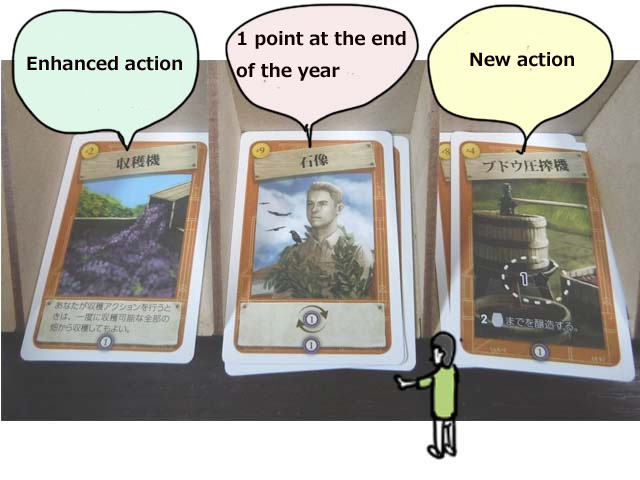 ・ Strengthen action
・ Automatic income at the end of the year (victory points, etc.)
・ A new action for yourself (like a farm horse)

・ Strengthen action
・ Automatic income at the end of the year (victory points, etc.)
・ A new action for yourself (like a farm horse)
You can incorporate as many expansions as you like.
Final thoughts
I'm a little tired of the longer play time, but it's an interesting expansion.
What's interesting is that you can do things that you couldn't do even if you wanted to do it in the original, or things that you couldn't do without using a visitor card.
For example
I want to make plenty of wine and ship it a lot! or
I want to plant grapes in the entire field and harvest them all at once ! something like that.
In the original, the visitor card was stronger.

The visitor card has become less important as the expansion has also strengthened other factors.

With worker placement bonuses and special worker and facility effects, you'll be exhilarated as you can stabilize powerful actions that you couldn't do without a visitor card in the original.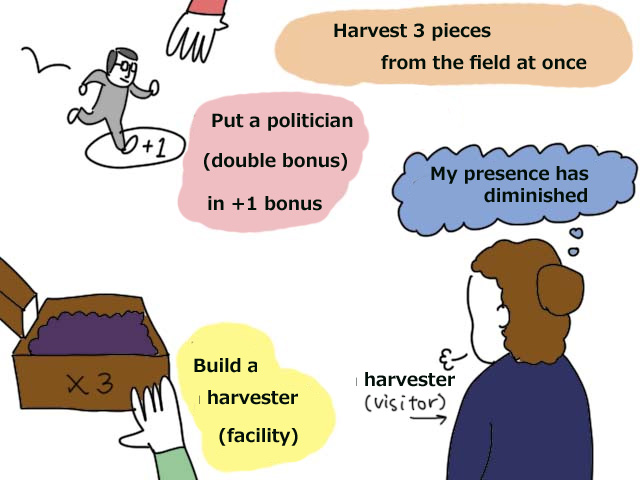 It used to be difficult to do without using visitors, but this time it can be done every year.
With the victory line extended to 25 points, it has become possible to manage without relying on cards. Rather, it seems difficult to win unless we can create a system that can produce and ship wine firmly and efficiently while incorporating various scoring factors such as sales promotion actions and facilities.

In the original, we shipped a few bottles of wine and pulled out the grapes with a visitor card to earn victory points, but it became difficult to win in that way. You can't run up to 25 points with just a momentary score.
I especially enjoyed being able to do such flashy actions and solid management.
It's a good expansion for two people.
The first impression is that.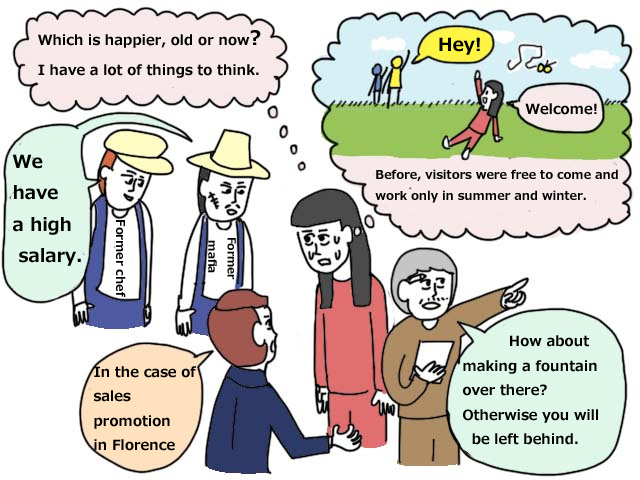 ~ Viticulture series ~
・ Viticulture
・ Viticulture: Tuscany Essential Edition
・ Viticulture: Visit from The Rhine Valley Expansion
Recommend